XYLENE POWER LTD.
FNR AIRLOCKS
By Charles Rhodes, P.Eng., Ph.D.
INTRODUCTION:
In normal circumstances an argon atmosphere is maintained over the primary sodium pool. Anything that either enters or leaves this argon filled space does so by way of an airlock.
The following diagram shows the plan view of the fuel bundle array.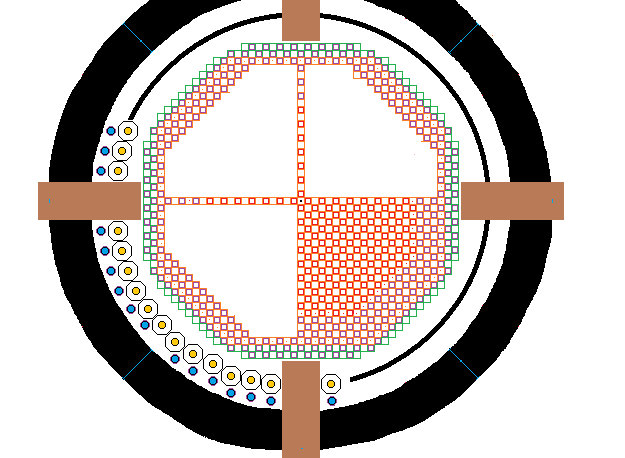 Note the four airlock feed trays. Each tray has a kicker roller designed to act as a focrum when a long object is being lowered.

Each FNR has four airlocks around the primary sodium pool perimeter with airlock bottoms with rollers that slope slighly downward from the pool deck to the rear end of the shielded transport container on the truck deck. At each end of each airlock is a swing door that opens horizontally. All of the airlocks are structurally suitable for complete evacuation.

The inner airlock doors are centrally located behind the fiberfrax insulated sidewalls of the enclosed argon filled space. The airlock doors are located behind removable fiberfrax filled wall sections to limit thermal losses and to protect the inner airlock door sealing gasket from damage due to prolonged high temperatures. The removable wall sections have gas seals on the cool side.


AIRLOCK GUIDE TRAYS:
In front of the inner door of each airlock is a 4.9 m long X 1.8 m wide airlock guide tray. The guide tray and its kicker roller enables the gantry crane to insert and remove long objects from the airlock. This guide tray extends 2.4 m over the liquid sodium pool and 2.5 m back to the inner face of the fiberfrax filled wall. When the removable fiberfrax section is put aside there is a supported straight radial length of at least:
2.0 m + 4.9 m = 6.9 m
outside the inner face of the concrete enclosure wall.


THERMAL EXPANSION:
Note that the primary sodium pool deck will thermally expand, so there will be significant relative thermal expansion/contration movement between the primary sodium pool deck and the airlocks.


FUEL BUNDLE TRANSFER AIR LOCKS:
Assume that the FNR has two horizontal airlocks that are intended for fuel bundle transfer. Each such air lock is 24 inch diameter and at least 8.2 m long.These two air locks should be designed for complete evacuation, and hence must have a safe working gauge pressure rating of - 101 kPa.

The inside diameter of the airlock must be sufficient to accommodate a maximum size fuel bundle. The inside diameter must be at least:
23 X (5 / 8) inch X (2)^0.5 X 1.05 = 21.346 inch

A Schedule 40 pipe has an ID of 22.624 inches and a Schedule 80 pipe has an ID of 21.562 inches. A Schedule 80 pipe requires that the fuel bundle be very straight. Hence, subject to other constraints a Schedule 40 pipe should be used.

Hence fabricate the fuel bundle transfer airlocks from 24.0 inch OD stainless steel pipe.

The two 24 inch OD airlocks are intended for routine transfer of FNR fuel bundles. In front of each interior fuel bundle air lock door is a load/unload tray which is used to assist in shifting fuel bundles from their horizontal to vertical position and to later restore them to a horizontal position for sliding back into the air lock.

At each scheduled fuel change there are over 200 fuel bundle airlock cycles, so to minimize the gas pumping requirement it is important that the fuel bundle transfer airlocks be no larger than necessary.

The two fuel bundle transfer airlocks must have an inside length of greater than 8 m. The two end airlock doors increase the overall fuel bundle transfer airlock length allowance to about 9.5 m. This airlock easily fits in the available space which is 2 m wide and 11 m long.

Over the pool deck the load/unload tray width is limited to 1.8 m to avoid conflict with adjacent secondary sodium piping.

The fuel bundle transfer airlocks are also used to add or remove indicator tubes and skirt posts.

The fuel bundle transfer airlocks and the load/unload trays have rollers on their bottoms to minimize friction during fuel bundle load/unload operations.

Trucks carrying fuel bundles simply back down the appropriate lane to mate their radiation shields with the appropriate air lock. The truck deck is set so that the elevation of the bottom of the shielded fuel bundle transport container matches the elevation of the bottom of the fuel bundle transfer airlock.


FUEL BUNDLE g RATING FOR TRANSPORT AND HANDLING:
In order to enable practical Fast Neutron Reactor (FNR) siting in urban areas fully assembled FNR fuel bundles are shipped to and from FNR sites. Practical shipping by road requires that fuel bundles transported horizontally be rated for working lateral accelerations of (1 / 2) g. A Fast Neutron Reactor (FNR) is made modular and economic through the use of 1149 to 1369 such fuel bundles. Each fixed fuel bundle contains 384 fuel tubes. Each movable fuel bundle contains 248 fuel tubes. The fuel tubes are supported at multiple places along their length by the fuel bundle and its wire winding.


FUEL BUNDLE TRUCK TRANSPORT:
A fuel bundle is transported in a nearly horizontal position inside a shielded transport container mounted on a flat deck truck, with the top of the fuel bundle near the back of the truck. The transport container is slightly sloped so its lowest point is near the front of the truck. The fuel bundle and its transportation container are supported at an slight angle from horizontal to ensure that the fuel tubes remain overlapping their support grating.

The fuel bundle overall length and width are limited by the weight of the shielded container needed to safely move a radioactive fuel bundle along city streets by truck.

It is contemplated that the truck trailer will have 4 rear axels each with 4 of wheels so as to be rated for 4 axles X 4 wheels / axle X 5 tons per wheel = 80 tons at the rear of the truck triler. The truck tractor will have additional 2 load bearing axles each with 4 wheels as well as forward wheels for steering.


During truck transport crossing water every core fuel bundle must be surrounded by a transportation safety material (eg gadolinium compound) to prevent the fuel bundle becoming critical if the shielded transportation container is accidentally immersed in water.

When a new fuel bundle arrives at a reactor site the transportation safety material is removed and the fuel bundle is transfered from the shielded fuel bundle transportation container mounted on the truck into the air lock, which is located in the 2.0 m wide concrete shielded space between two adjacent heat exchange galleries. A locking bar is used to prevent the fuel bundle sliding backwards down the airlock slope.

The outside door of the air lock is closed, the air lock is evacuated and then the air lock is filled with argon. Then the inner airlock door to the pool space is opened and the new fuel bundle is slid out of the air lock and onto the loading tray. The gantry crane hooks on to the top of the fuel bundle, pulls it fully onto the load/unload tray, lifts it to its vertical position and moves it toward the center of the primary sodium pool clear of all the adjacent secondary sodium pipes. The gantry crane then moves the new fuel bundle to its desired mounting position.

The gantry crane then picks up a used fuel bundle from the outer ring, lifts it clear of the liquid sodium, allows it to drip dry, then moves it to the unload tray. The used fuel bundle will slide by gravity back into the airlock. The airlock inner door is closed and the argon in the airlock is pumped back into the pool space. Then air is admitted to the airlock, the exterior airlock door is openned, the locking bar isreleased and the fuel bundle slides by gravity into the shielded container in the waiting truck.

Then the airlock outside door and the transportation container doors are closed.

During normal reactor operation both of the fuel bundle transfer airlock doors are closed and the fuel bundle transfer airlock is kept at a positive argon pressure to minimize long term air penetration of the primary pool space.


EQUIPMENT TRANSFER AIR LOCKS:
The equipment transfer air lock inside width and bottom radius must accomodate the 38 inch (1.0 m) diameter intermediate heat exchange bundle flanges and the connecting pipe stubs and flanges.

The equipment transfer airlock outside width is limited by the 2.0 m wide space between adjacent heat exchange galleries. The equipment transfer airlock width must be at least 1.2 m to accommodate intermediate heat exchange bundles and open steel lattice sections. Consider:
48 inch OD = 1.2192 m OD
or

54 inch OD = 1.3716 m

Make the bottom and top portions of the equipment transfer airlock out of 48 inch or 54 inch OD steel pipe.

The inside length of the equipment transfer airlocks must be at least 9.5 m to accommodate skirt plates and intermediate heat exchange bundle assemblies.

The inside height of the equipment transfer airlocks must be about 2.5 m to accomodate intermediate heat exchange bundles, open steel lattice sections, skirt plates and people.

Assume that the FNR has two horizontal equipment transfer air locks, each with minimum door aperature and inside dimensions: 1.2 m wide X 2.5 m high X 9.5 m long to permit exchange of intermediate heat exchangers, skirt components and open steel lattice slices. These two air locks should be designed for complete evacuation, and hence must have a safe working gauge pressure rating of - 101 kPa.

The end walls will add 0.2 m onto the overall length. The inner door swing will add 1.4 m to 1.6 m onto the overall length. Thus, neglecting the out side door, the minimum overall airlock length and door swing requirement is:
9.5 m + 0.2 m + 1.4 m = 11.1 m

or possibly:
9.5 m + 0.2 m + 1.6 m = 11.3 m

However, the available combined wall thickness to the outside of the fiberfrax wall is 11.0 m so the outside end of the equipment transfer airlock body will project about 0.1 m to 0.3 m from the outside concrete wall.

The equipment transfer airlock will require welded external flat ring circumferential reinforcing which will increase its outside width to almost 2.0 m.


The equipment transfer airlocks are used much less frequently than the fuel bundle transfer airlocks, are much larger in size and have different access arrangements. The equipment transfer airlocks enable occasional personnel access to the primary sodium pool space and allow occasional replacement of gantry crane components, intermediate heat exchange bundles, intermediate heat exchange bundle supports, skirt components, primary sodium filter related components and open steel lattice components.

Height above pool deck to which top of heat exchange bundle must be lifted in order to insert it in the equipment transfer airlock: 10.2 m____

The equipment transfer airlock inner swing door will add 1.4 m to the airlock overall length allowance. However, the outside airlock doors are normally closed, so if the outside airlock body projects only 0.1 m from the outside concrete there is 11.1 m from this bosy end to the outside of the fiberfrax wall, which is just enough to accommodate the 9.5 m airlock inside length plus the end thickness (2 X 0.1 m) plus the inside door swing (1.4 m)

During normal reactor operation both of the equipment transfer airlock doors are closed and the equipment transfer airlock is kept at a positive argon pressure to minimize long term air penetration of the primary pool space.


This web page last updated February 12, 2022